- Passing train sound (2:02)
- HD surround technology!
- 24bit / 96 kHz wav file
- Stereo and surround formats
- Sound of a train, horn,
loud arrival, train stopping
Bus station in the day-time and average traffic intensity. Recording contains sounds of buses passing from different distances (closer and more distant) as well as just the background sounds of...
Passing Train Sound Effect, Stereo and Surround Wav File
Train passing the suburban train station. We can hear characteristic loud horn, approaching of the train and it's loud arrival and then departure and receding.
Details:
00:00-00:24 - first train stopping in the distance
00:37-00:51 - quiet departure
00:44-02:02 - horn and loud arrival of the train
Total time: 2:02
Secure payments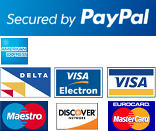 Download content
Passing train [binaural] - 63.67MB
License Agreement
License agreement
Customers who bought this product also bought: