The EDM scene has experienced a surge in popularity over the past decade. As such, music software tailored specifically to this genre has seen massive improvements and innovation. If you're an aspiring Electronic Dance Music artist or a seasoned producer looking to up your game, 2023 has a line-up of software you simply cannot ignore. Lucid Samples team tested most popular tools and created list with Best EDM software for you.
Critical Attributes to Seek Out
As we delve into the essentials on how to make EDM music, it's crucial to focus on the critical attributes that can make or break your production journey. Let's explore what sets the stage for a chart-topping track.
User Interface and Experience
Your music production software should not only be powerful but also intuitive. A cluttered and confusing interface can hinder creativity. Instead, seek out platforms that offer a seamless, user-friendly experience.
Compatibility with Hardware
Many EDM artists use external MIDI controllers, synthesizers, and other hardware. Ensure your software integrates effortlessly with these devices for the best experience.
Quality Effects and Filters
From wobbly dubstep basslines to crisp hi-hats, the effects and filters you use can make or break a track. Prioritize software that provides high-quality, customizable effects.
Sound Library and Variety
EDM is all about experimentation and unique sounds. Your software's sound library should be expansive, offering a wide array of instruments and edm samples to play with.
Deep Dive: Review of the Best EDM Software
FL Studio: Great for dance beats; fits various budgets
Ableton Live: Perfect for live show lovers; a bit pricey
Bitwig: For those who like unique sounds; moderately priced
Adobe Audition: Mixes traditional and electronic; monthly subscription
Logic Pro: All-in-one tool for diverse tunes; a one-time splurge. Better for MAC users
Cakewalk: Ideal for beginners on a tight budget; it's free!
Reaper: Customize to your heart's content; affordable
Acoustica: Simple and user-friendly for newbies; wallet-friendly
Studio One: Smooth and easy song-making; mid-level cost
Cubase: For serious tune crafters; on the expensive side

A favorite for many, FL Studio offers a seamless workflow. Its Piano Roll is often hailed as one of the best, making melody composition a breeze. FL Studio also boasts an array of impressive features such as a scalable interface, VST and ReWire compatibility, automation capture, sidechain controls, live DJ integration, and the capability to produce 4K videos within the software, among others.
It's a great fit for both beginners and experienced producers, thanks to its diverse sound library, audio effect and regularly updated features.
FL Studio's intuitive interface streamlines the production workflow, allowing artists to seamlessly transition from ideation to final track creation.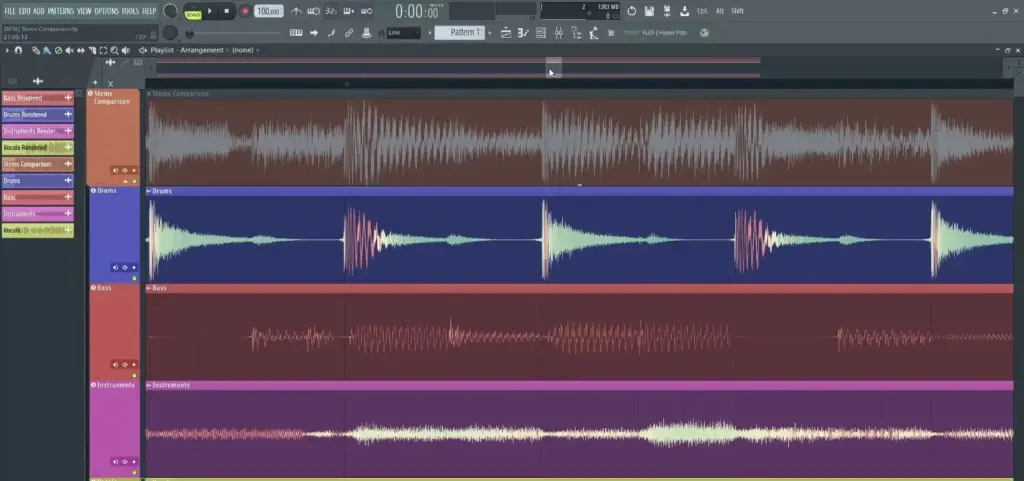 Pros:
Intuitive workflow suitable for various skill levels

Highly-regarded Piano Roll for easy melody composition

Modular interface design for personalized layouts

Regularly updated with new features
Cons:
Can be resource-intensive with multiple plugins

Might be overwhelming for beginners due to the array of options
Summary: With its vast array of plugins, loops, and virtual instruments tailored towards electronic music, FL Studio remains a top choice for many producers. Its intuitive interface and robust feature set make it a standout for EDM music.

Ableton is renowned for its intuitive loop-based composition, making it a top choice for live performances. It also has an exceptional range of instruments and plugins, making production fluid and flexible. Using the Session Viewer, you can perform music live using scenes crafted from audio clips. For artists who intend to perform their EDM tracks live or enjoy a loop-centric approach to track creation, Ableton is hard to beat.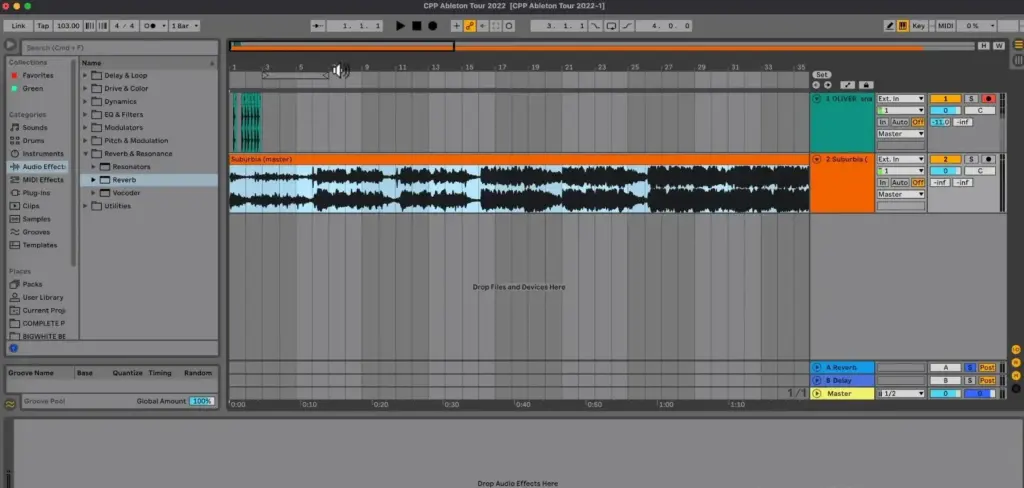 Pros:
Excellent for live performance with a unique session view

Max for Live extension allows custom tool creation

Seamless loop-based composition system
Cons:
The unconventional layout might be confusing for new users

Steeper learning curve compared to other DAWs
Summary: Ableton's loop-based composition system and its seamless live performance capabilities make it a favorite among EDM artists, especially those looking to perform their tracks live. Its integration with Max for Live also opens up endless sound design possibilities. It undoubtedly boasts the most extensive integrated collection of potent instruments, synthesis samplers, equalizer and effects.

This Digital Audio Workstation stands out for its unique modulation system. It provides producers with a sandbox of creativity, allowing for intricate sound design capabilities. For those looking to experiment and break the mold of traditional EDM sounds, Bitwig provides the flexibility to explore uncharted territories.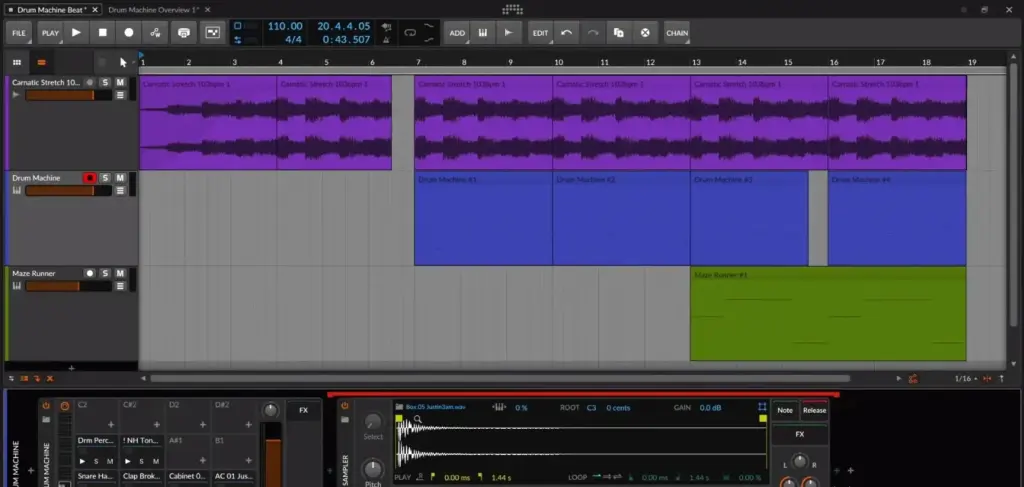 Pros:
Innovative modular design for flexible sound design

Highly customizable interface to suit individual needs

Continuously evolving with regular updates

More than 80 instruments and effects
Cons:
Not as comprehensive as some industry-standard DAWs

Steeper learning curve for beginners
Summary: Bitwig, with its modular system, allows for intricate sound designs which can be crucial for innovative tracks. While it might have a steeper learning curve, its flexibility is a huge asset to make EDM.

More than just a DAW software, Audition offers advanced sound restoration and audio repair tools. Its multitrack editor is also a standout feature for those focusing on layered compositions. While primarily an audio editing tool, it can be valuable for artists focused on pristine audio edits and unique elements. It's ideal for those who merge traditional music recording with electronic elements.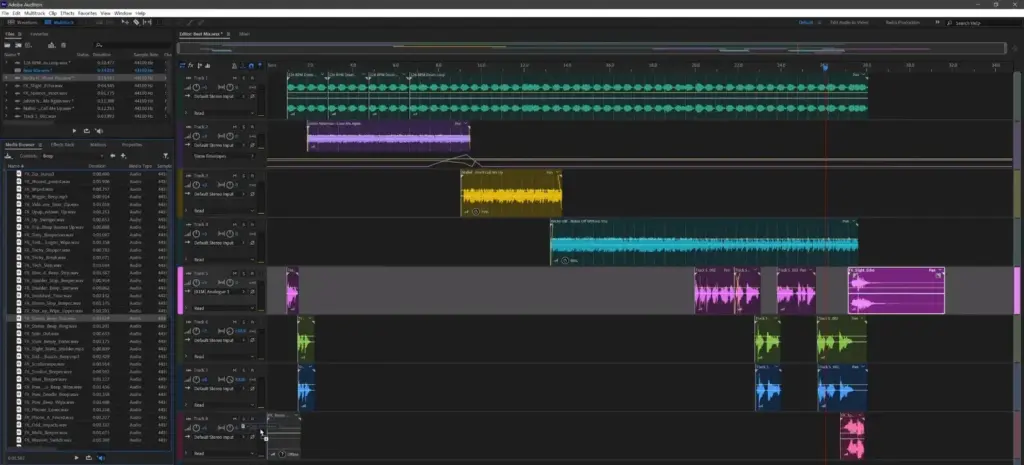 Pros:
Superior audio editing and restoration capabilities

Multitrack editor is great for complex music projects

Integrated with Adobe's suite of creative tools
Cons:
More suited for audio editing than music production process

Might lack some instruments and samples preferred by music producers
Summary: Primarily an audio editing software, Adobe Audition might not be the first choice for creating EDM. However, for those looking to incorporate pristine audio edits into their tracks, it can be valuable.

For Mac enthusiasts, Logic Pro X offers an all-in-one package. Its Alchemy Synth is a gem for EDM producers, offering vast sound manipulation options. Exclusively for Mac users, Logic Pro comes packed with synthesizers like Alchemy Synth, perfect for creating diverse soundscapes. It offers a complete suite for producers who desire a wide range of in-built instruments and samples.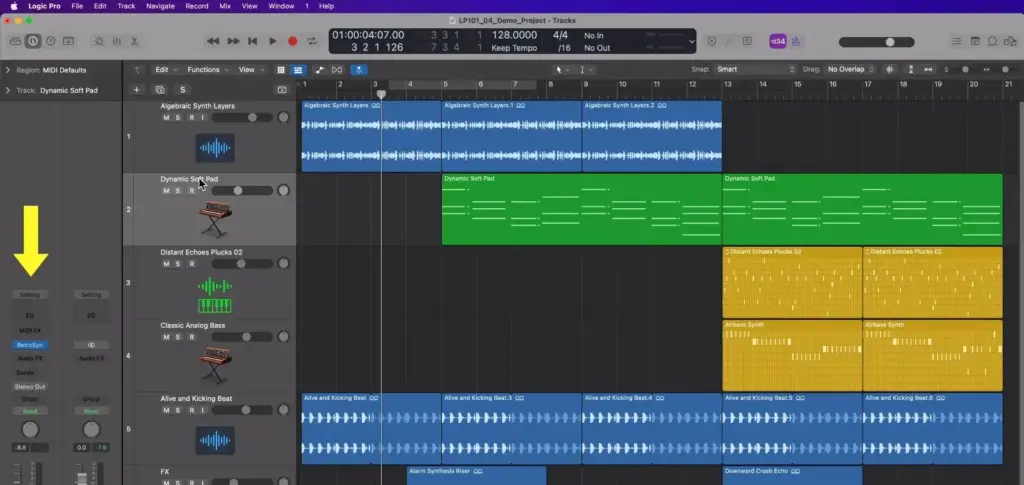 Pros:
Comprehensive suite with tools like Alchemy Synth

Integrated well with the Mac ecosystem

Regular updates with new instruments and features
Cons:
Exclusive to Mac users

The vast number of features can be overwhelming for some
Summary: Logic Pro, with its vast array of synthesizers (like Alchemy Synth) and samples, is a powerful tool for producers using Mac. Its comprehensive suite ensures producers have everything they need for track creation.

Once a premium software, now free, Cakewalk hasn't skimped on features. It has a comprehensive suite of editing tools, and its Skylight Interface ensures smooth navigation. Its professional-grade tools make it suitable for those on a budget, yet eager to produce quality tracks. The software is designed to mimic the structure of a traditional analog mixer, allowing users to develop and improve channels with a versatile set of ProChannel modules, including convolution reverb, resonant filters, and dynamic compression.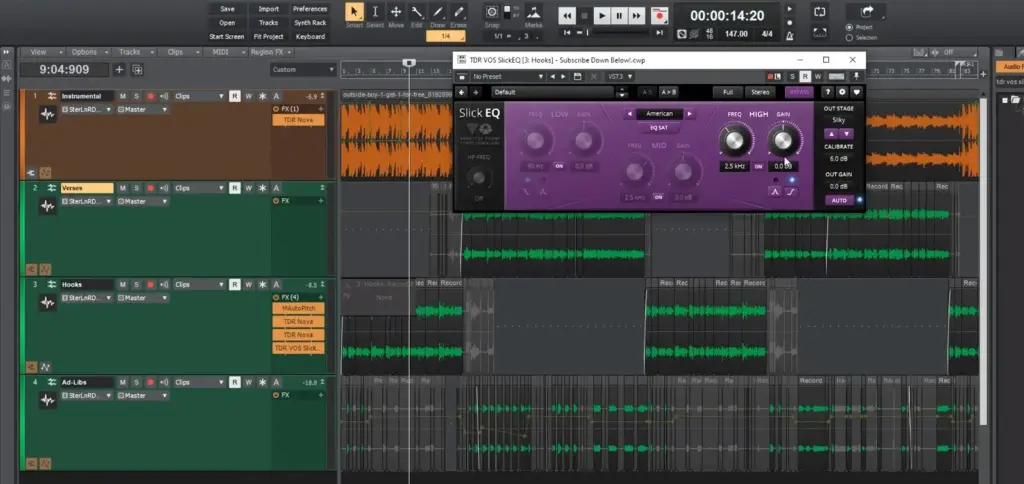 Pros:
Offers professional-grade tools despite being free

Skylight Interface is user-friendly

Good VST3 support and integration
Cons:
Some reported stability issues

May have a steeper learning curve than other free alternatives
Summary: Cakewalk offers a rich set of tools, and for a free software, it can be quite powerful to produce EDM. It might not have the extensive features of premium DAWs, but it certainly can hold its own.

What sets Reaper apart is its incredibly customizable nature. It's lightweight but powerful, with a community that continually creates new plugins and scripts. For EDM producers who enjoy tweaking their DAW environment to their exact needs and incorporating a mix of plugins, Reaper offers a canvas ready for personalization.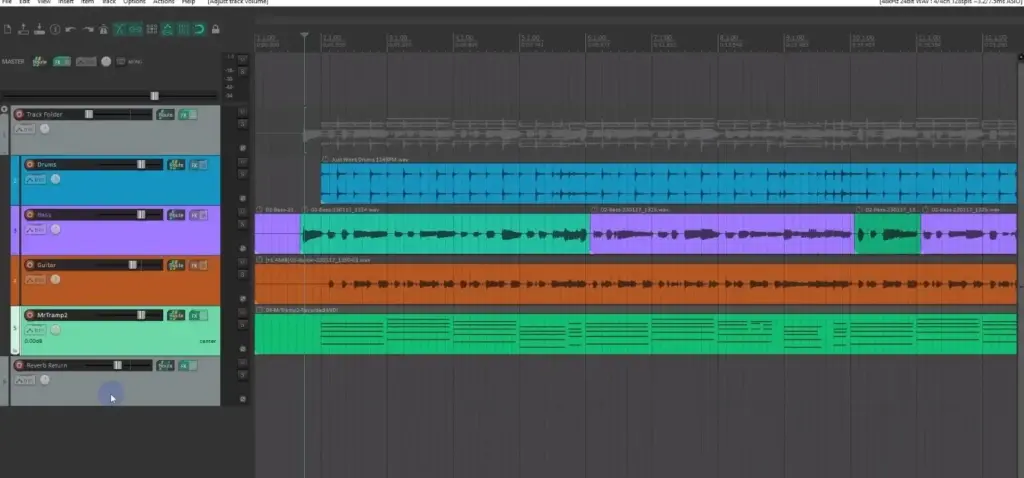 Pros:
Extremely lightweight and resource-friendly

High degree of customization and scripting capabilities

Affordable compared to other professional-grade DAWs
Cons:
The interface can appear outdated

Too many customization options can confuse beginners
Summary: Reaper's strength lies in its customization, making it suitable for those who want to tweak their DAW to fit their exact needs. For EDM, it might require additional plugins and extensions to match the capabilities of other specialized software.

Best software suited for beginners, Acoustica has a simple interface. It may not boast the same depth as others but offers essential tools for straightforward EDM production. For those creating simpler EDM beats or just learning the ropes, it's a friendly introduction.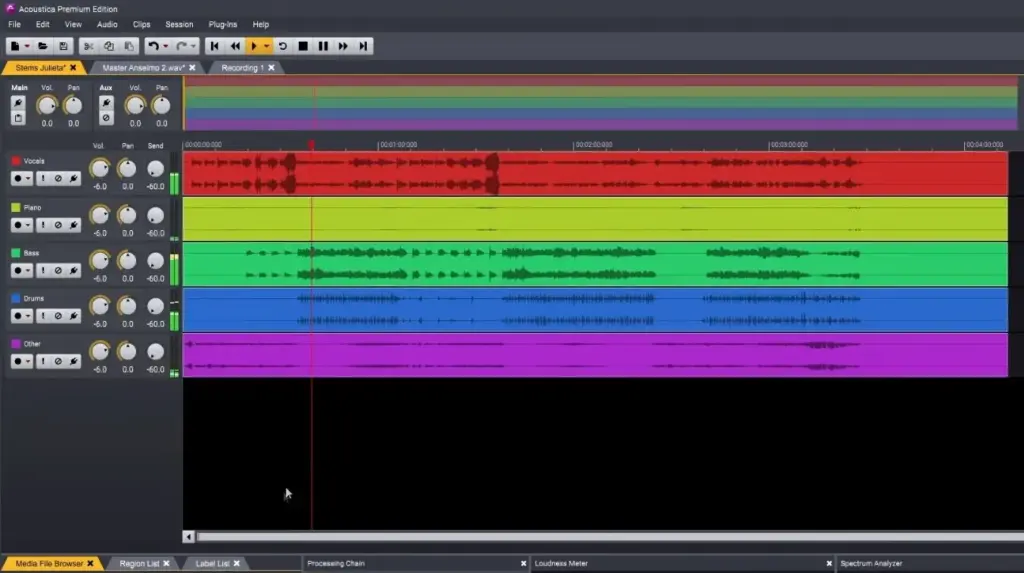 Pros:
Simple and straightforward, perfect for beginners

Comes with essential tools needed for basic production

Clean and uncluttered interface
Cons:
Might be limiting for professionals

Sound library isn't as expansive as competitors
Summary: As a beginner-oriented software, Acoustica may not offer the depth required for professional electronic music production. However, for those just starting out or making simpler tracks, it can be a good introduction.

Its drag-and-drop functionality is a standout, ensuring a smooth workflow. Studio One also features a robust mastering suite, making it perfect for end-to-end production. Its streamlined workflow makes it apt for producers who value speed and efficiency in track creation.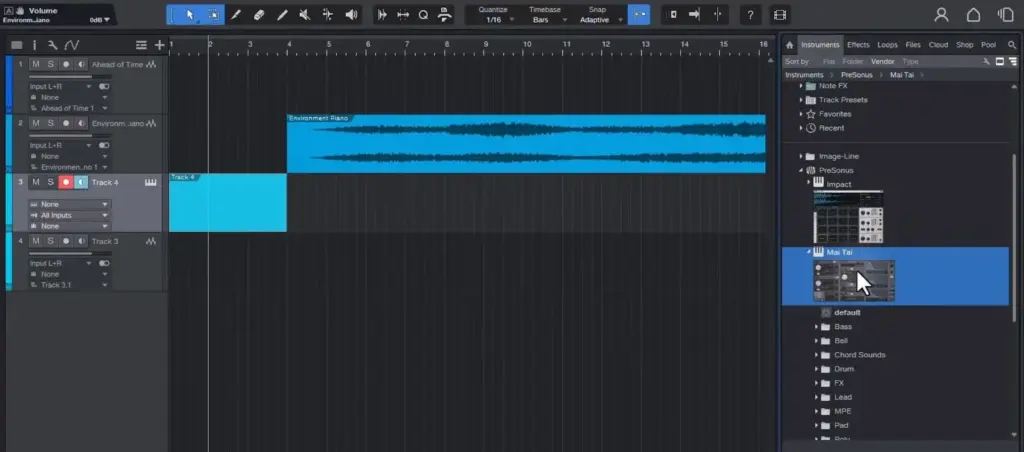 Pros:
User-friendly drag-and-drop functionality

Integrated Melodyne and a robust mastering suite

Smooth workflow for both production and mixing
Cons:
Might lack depth for intricate sound designs

Some plugins might feel redundant or unnecessary
Summary: Studio One's streamlined workflow and integrated mastering suite make it suitable for EDM artists who want an end-to-end production solution. Its drag-and-drop functionality ensures a smooth production experience.

Known for its MIDI capabilities, Cubase 10 is a top choice for producers focusing on intricate melodic structures. It also offers one of the best multitrack editors in the market. Its vast feature set caters especially to those producing sub-genres of EDM that demand complex compositions.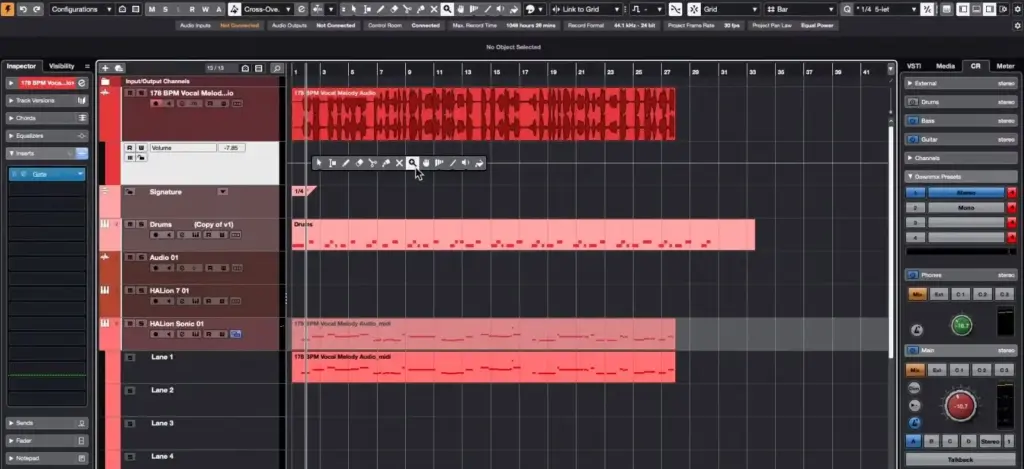 Pros:
Excellent MIDI capabilities for complex compositions

One of the best multitrack editors available

Continuously updated with new features and improvements
Cons:
Licensing and eLicenser system can be frustrating

Can be resource-intensive, especially on older systems
Summary: Cubase's strong MIDI capabilities and sound design tools make it a reliable choice for making music. Its multitrack editor and powerful synthesizers ensure artists can craft intricate EDM tracks with ease.
Factors to Consider When Selecting an EDM Software
it's always a good idea to dive deeper and perhaps try a demo version of a software before fully committing to it.
| Software | Strengths | Notable Features | Price Range |
| --- | --- | --- | --- |
| FL Studio | Versatile, Great Piano Roll | VST support, Regular updates | $$$ |
| Ableton Live | Live performances, Loop-based | Max for Live, Push Integration | $$$ |
| Bitwig | Modulation System | Hybrid tracks | $$$ |
| Adobe Audition | Sound restoration | Multitrack editor, Spectral display | $$$ |
| Logic Pro | All-in-one, Mac integration | Alchemy Synth, Smart Controls | $$$ |
| Cakewalk | Comprehensive tools, Free | Skylight Interface, VST3 support | Free |
| Reaper | Customizable, Lightweight | Scripting, Wide plugin compatibility | $ |
| Acoustica | Beginner-friendly | Straightforward UI, Essential tools | $$ |
| Studio One | Drag-and-drop, Mastering suite | Project Page, Integrated Melodyne | $$$ |
| Cubase | MIDI capabilities, Multitrack | VariAudio, Control Room | $$$ |
Budget Considerations
Choosing the right software often hinges on budget. On the affordable end, Reaper stands out for its professional-grade features at a lower price. For those seeking cost-free solutions, Cakewalk offers notable capabilities without any investment. Mid-tier options like Bitwig and Studio One present a balance between cost and features, suitable for various producers. FL Studio and Ableton Live offer tiered versions, allowing users to choose based on both budget and needs. In contrast, Logic Pro comes with a steeper price but justifies it with an all-inclusive suite. Cubase too has a premium cost, especially for its Pro version, but provides extensive tools in return. Adobe Audition is subscription-based, potentially making it pricier over time. It's vital to also factor in additional costs, like plugins or instruments, which might be necessary with some DAWs. Ultimately, there's a DAW for every budget, from free introductions to high-end investments. Making a choice depends on balancing financial constraints with desired features.
Skill Levels
Beginners might prefer software with a more intuitive interface and basic toolsets to avoid feeling overwhelmed. Acoustica is a prime example, with its straightforward layout and essential tools that allow newbies to grasp fundamentals without drowning in complexity. Similarly, Cakewalk offers a user-friendly environment and, despite being free, doesn't skimp on essential features.
For intermediate users, they'll want a blend of accessibility and depth. FL Studio is renowned for its balance, providing a friendly interface with the ability to delve deeper as one's skills advance. Bitwig and Studio One also find a sweet spot, offering comprehensive toolsets without an excessively steep learning curve.
Seasoned producers often seek DAWs with robust features, extensive sound libraries, and advanced modulation capabilities. Ableton Live and Cubase shine here, allowing intricate sound design and manipulation. Logic Pro, exclusive to Mac, offers an expansive suite tailored for professionals, while Reaper is valued for its deep customization options.
In conclusion, understanding one's skill level is paramount when selecting a DAW. The right software can nurture growth, facilitating a smooth transition from beginner to expert, ensuring that creativity flows unhindered.
Preferred Software of Top EDM Producers
When observing the preferences of renowned producers, distinct patterns emerge. Historically, Ableton Live has been a favorite, with artists like Skrillex, Deadmau5, and Diplo championing its features, especially its seamless live performance capabilities.
FL Studio has also carved its niche, being the DAW of choice for producers like Martin Garrix, Avicii, and Alan Walker, who value its intuitive loop sequencing and robust synthesizer options. Logic Pro finds its patrons in the likes of Calvin Harris and Hardwell, primarily because of its comprehensive suite of tools tailored for electronic music.
While these three DAWs are prominent in the EDM community, it's important to note that many artists often use a combination of software to achieve their desired sound.
Conclusion
Choosing the best software for making edm is a critical step in your music production journey. Now the options are richer and more varied than ever. Consider your needs, budget, and skill level, and dive into the world of EDM production with confidence. With the right tools, your creativity knows no bounds.