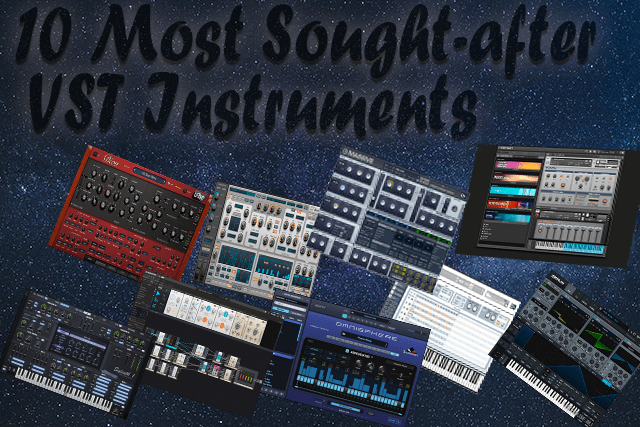 Our pick for best synth VSTs in 2023:
Spire
Native Instruments FM 8
U-he Diva
Reactor 6
Kontakt
Omnisphere 2
Nexus 4
Sylenth1
NI Massive
Xfer Serum
Spire
Spire possesses lots of great presets, and sounds in stylish and forceful way. It`s an excellent supplementary hybrid synthesizer with only one visible drawback that its display does not have envelope shapes, like in Serum.
Price: $99 (exclude VAT)
Advantages :
excellent presets
great oscillator warping
a variety of features
Disadvantages :
a luck of envelope shapes in a display
Native Instruments FM 8
FM 8 analog synth VST is relatively difficult for rookies, as some time is needed to get the hang of FM synthesis, but it`s an excellent sounding synthesizer, used by many professionals including Skrillex.
Price: $74.50
Advantages :
superb presets
excellent apreggiator
patches can be morphed
Disadvantages :
samples cannot be imported
it`s difficult for rookies
U-he Diva
Price: $192
This synth VSTi is super easy to use even for a novice. It possesses lots of similarities with Minimoog including a quality of sound. U-he Diva is great for making classic synthesizer patches, but it will not be efficient for creating complex dubstep compositions.
Advantages :
convenient interface
great presets
superb analogue quality of sound
Disadvantages :
high CPU usage
absence of arpeggiator
flexibility is limited
Reactor 6
Price: $99.50
Reactor 6 provides lots of flexibility for those, who enjoy creating patches from the very start. It`s a great VST synthesizer that keeps things clear at the top menu, while having versatile wiring (low) part.
Advantages :
great, pleasant sound
creating unique patches out of Blocks
Disadvantages :
monophonic blocks
high CPU usage
difficult to use for rookies
Kontakt
Price: $99.50
This sampler possesses plenty of high-grade sample collections and is often used in background music compositions. Kontakt provides access to realistically sounding tools, has its free of charge version, and a variety of libraries with free access.
Advantages :
lots of free sample collections
excellent factory library
Disadvantages :
almost all libraries are great in size
high prices, and each library has to be bought separately
size of libraries is gigantic, for instance Hans Zimmer piano library is 450gb
high CPU usage
Omnisphere 2
Price: $499
Considered to be one of the largest Romplers, Omnisphere possesses over 50 gb collection of sample packs, from traditional piano to the most eccentric sounds, and provides access to extraordinary instruments. You can also import own sounds to Omnisphere and turn them into synthesizer patches.
Advantages :
great instruments and patches
new version of wavetable synthesis
ability to add own sound samples

Disadvantages :
the volume is more than 50gb
ES editor is needed to loop imported sound samples
very loud presets
Nexus 4
Price: $200
Nexus is one of essential tools for Electronic dance music production, which was used at Steve Aoki, David Guetta and Marshmello studios. It`s a Rompler that plays sound sample collections from expansion packages you buy. Nexus patches are usable right away and possess superb quality.
Advantages :
great collection of presets and samples
cool integral patches
each patch can be edited
Disadvantages :
big size, more than 10 gigabytes
expansions have to be ordered if you need additional sounds
Sylenth1
Price: $149
Thanks to its warm, pleasent sound, Sylenth1 was chosen by many famous producers, including Flume and Martin Garrix. This synth plugin is excellent for basic samples, however it`s not very helpful when it comes to creating complex sound combinations, since its possibilities are limited. Anyway, it`s used in lots of Electronic dance music hits and because Sylenth 1 is super simple, this synth is an excellent choice for beginners.
Advantages :
easy to use
excellent, pleasant classic sound
superb presets packages
Disadvantages :
the effects could be better
possibilities are limited (FM modulation or wavetable synthesis are absent)
absence of low frequency oscillator customization
NI Massive
Price: $74
Massive can be considered a father of dubstep music. The name of this virtual synthesizer matches its sound, which is really impressive and massive. Massive provides a great combination of robust wavetables, cool effects and more.
Advantages :
convenient, integral wavetables
excellent chorus effect
preset packages are superb

Disadvantages :
relatively difficult for rookies
the absence of automatic volume control
Lots of presets are available here!
Xfer Serum
Without a doubt, Serum is one of the sought-after VST synthesizers nowadays. It`s great combination of stylish user interface with a variety of options for transforming samples into powerful wavetables.
Price: $189
Advantages :
simple to learn
strong wavetable synthesis
a variety of superb effects

Disadvantages :
high CPU usage
unconvincing integral presets
more high-pitched sound