- 10 Bass Loops
- 28 Drum Loops
- 9 Misc Loops
- 10 Synth Loops
- 57 Rex2 Loops
- 13 FX Sounds
- Size: 162 MB / 127 files
- Formats: 24-bit Waw, Rex2
Electronic House Vol. 2 - 162 MB of House/ Electronic Loops
With help of Electronic House Packs every beginning music maker can build simple but interesting beats in few minutes. Fine quality of samples will also fit professional music production requirements.

This sample pack consists of 5 sample directories: bass loops, drum loops, misc loops, synth loops and fx sounds. Bass loops and synth loops with the same number always match each other. If you, for example, set together drum loop #3 with bass loop #3 you will get good results.

The pack contains:

- 10 Bass Loops
- 28 Drum Loops
- 9 Misc Loops
- 10 Synth Loops
- 13 FX Sounds
- 57 Rex2 Loops
- 162 MB / 127 files
- 24-bit wav samples & rex2 loops

Tempo of all loops: 128 BPM

To get a bigger range of sound samples get the other volumes of Electronic House Packs!
Secure payments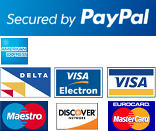 Download content
Electronic House Vol 2 WAV REX2 - 166.23MB
License Agreement
License agreement
Customers who bought this product also bought: