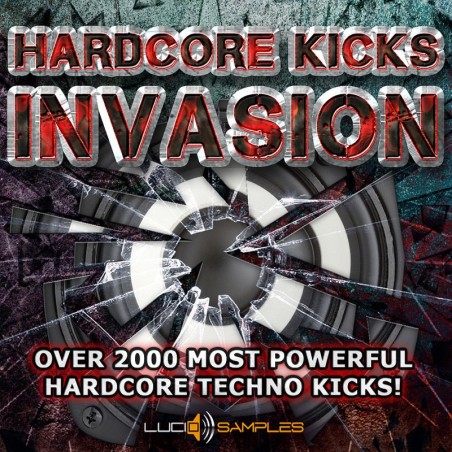  
- 2000+ Powerful Kicks for Hardcore Techno
- 55 Multi Sampled Kicks
- Extra Synthlines and Fx Sounds
- Fantastic, hard and distorted sounds
- Size: 1 GB after unpacking
- Formats: WAV, AIFF, SF2, SXT
Hardcore Kicks Invasion - The best hardcore kicks sample collection
Introduction

HARDCORE KICKS INVASION is absolutely the largest, the most powerful and the most versatile sample collection of Hardcore Kicks all over the world! This set contains over 2000 (!) powerful, stunning, gloomy and crushing bassdrums, including 55 multisampled kicks, build from the very beginning on the best hardware synthesizers. Both the quantity and the quality are very strong advantages of this pack. Most of the sounds were created using hardware instruments, high quality distortion effects and accordingly set filters to obtain characteristic for hardcore music overdriven tones. Except for the classic hardcore kicks samples, the collection contains atypically sounding bassdrums which successfully give fresh and original flavor to the tracks. Hardcore Kicks Invasion also contains a bit of additional, exceptionally attractive and useful samples – among others: brilliant sound effects quality and powerful lead synth lines which you can hear in the demo. Thanks to these additions you can make your productions more complete.


We are sure that this huge, high quality and unique sample collection will live up to the expectations of the professional music producers and will facilitate the start for the beginners. We boldly recommend Hardcore Kicks Invasion to all the hard electronic music producers and we wish you many new and impressive productions.


Multi-kicks
Hardcore Kicks Invasion contains 55 multi sampled bassdrums in popular for most of soft-samplers formats: SF2, GIG and SXT for Reason users. The sounds were created from the very beginning using top synthesizers like Nord Lead 3 and Virus TI. The sounds were sampled in the interval of a semitone within the range of 1.5 - 2.5 octave. This solution gives innovatively simple possibility to tune bassdrum tone to the melody without any loss in quality. You've never heard anything like this before!


Available Formats
24-bit Wav + multi samples in soundfont format*
24-bit Aiff + multi samples in soundfont format*
24-bit Wav + SXT patches for Reason NN-XT.


* Soundfont (SF2 files) is popular format for most of soft-samplers, for example Kontakt, MachFive, HALion, Apple EXS24, VSampler and others.

A certain part of sounds in standard quality of 16-bit were added as a bonus in a separate catalogue.
The Summary of Hardcore Kicks Invasion
The best hardcore kicks sample collection in the world.
Sounds created with high quality equipment.
Overdriven, stunning, gloomy and extreme sounds.
High quality multi samples in SF2 and SXT formats.
Additional sound effects, synth lines with brilliant quality.
Most of the sounds recorded in 24-bit wav format.
Collection recommended to all hard electronic music producers.
Attractive, low price.
The content
Kicks:
68 Big Kicks
71 Dark Kicks
32 Destroyed Kicks
27 Digital Kicks
48 Filtered Kicks
53 Hard Kicks
32 Noise Kicks
106 Nord Kicks
40 Sqeeze Kicks
47 Warm Kicks
Bonus Kicks:
30 Distorted Kicks
27 Extreme Kicks
41 Filtered Kicks
153 Hard Kicks
32 Offbeat Sounds
119 Spicy Kick
FX Sounds:
13 Dark Fx
10 Noise Fx
24 Offbeat Sounds
12 Reverbkicks
Phrases:
Synthlines:
48 Melody Synthlines 25 Sequential Synthlines
Multis:
Angry Kick
Basic Hard Kick 1
Basic Hard Kick 2
Basic Hard Kick 3
Basic Hard Kick 4
Basic Hard Kick 5
Basic Hard Kick 6
Basic Hard Kick 7
Bleep Kick
Clicking Kickbass 1
Clicking Kickbass 2
Creeping Kick 1
Creeping Kick 2
Dirty Kick 1
Dirty Kick 2
Dirty Kick 3
Growling Kick
Hardcore Kick 1
Hardcore Kick 2
Hardcore Kick 3
Hardcore Kick 4
Hardcore Kick 5
Hardcore Kick 6
Hardcore Kick 7
Hardcore Kick 8
Hardcore Kick 9
Hardcore Kick 10
Hardcore Kick 11
Hardcore Kick 12
Hard-Hitting Kick
Invasion Kick 1
Invasion Kick 2
Invasion Kick 3
Invasion Kick 4
Jump Kick
Mad Kick
Massive Kick 1
Massive Kick 2
No Kick 1
No Kick 2
No Kick 3
Pitch Kick
Power Kick 1
Power Kick 2
Power Kick 3
Power Kick 4
Power Kick 5
Power Kick 6
Psy Kick
Rate Reducer Kick 1
Rate Reducer Kick 2
Sloping Kick
Squeaky Kick 1
Squeaky Kick 2
Tidal Kick
Secure payments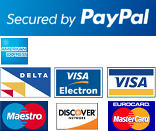 Download content
Hardcore Kicks Invasion WAV SF2 - 1168.58MB
License Agreement
License agreement
Customers who bought this product also bought: