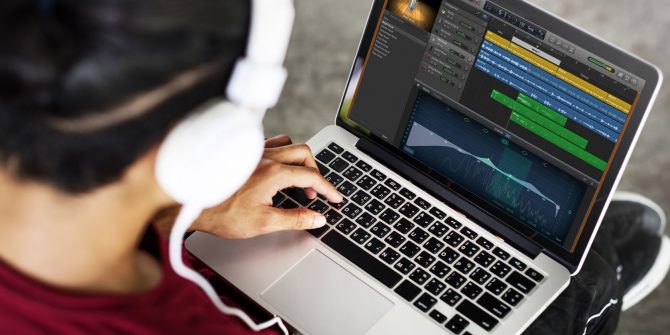 Digital Audio Workstations: Intro
Some time ago I asked you for help in writing an article about available Digital Audio Workstations. I know that the decision which workstation would be the best at the beginning of creating music is really difficult. I didn't have an opportunity to test every Digital Audio Workstations commercially available so our task in the questionnaire competition was primarily an indication of the top three advantages and three disadvantages that you recognize when you work in your chosen program.
Additionally, every reader who had a newsletter of the blog and took part in the questionnaire had a chance to win one of courses of this side. The winners are already known (once again -congratulations) but there is still a theoretical part to describe.
After a careful analysis of the data collected, I found that they are really valuable – there is so many interesting thoughts and the knowledge included is so enormous that I should write a book with all information you gave me in the questionnaire. You're the real author of this article, I'm just the one combined your knowledge into one.
Risk of the error…
Before I compare all programs, I'd like you to remember that everyone have different experience with Digital Audio Workstations – there are beginners, professionals and people who don't need to use all abilities of the program. That's why we mustn't exclude differences between the questionnaire and reality. I found some wrong answers describing programs well known to me (Pro Tools for example) but there are also workstations unfamiliar to me, so there's still a risk that someone doesn't know about some possibilities of the program and pointed that out as serious defect. If you have found something like that in the article, please let me know in a comment.
At the end of this long introduction I hardly believe that this article will help people to make the best decision for them.
Now, I'm going to present effects of the questionnaire.
A total of 22 were compared digital audio workstations. All of your Digital Audio Workstations are included, even if they were mentioned only once. Unfortunately, that article doesn't present all available programs (none of the participants told about them so I wasn't able to compare them). The most important is the fact that the majority and the most popular DAW's are mentioned.
I divided all programs into categories:
Expanded DAW's
ordinary DAW's
Simple (meager) DAW's / audio editors
You ask why?
Not all DAW's are created equal. Sometimes users don't need to have expanded program so they don't have to invest, but it is good to know about all possibilities. On the other hand we have to be aware of weak, insufficient programs which do not contain all functions needed.
Don't be biased towards programs from third category! They don't have so many potentialities but in some situations it could be an advantage – smaller programs are faster and easier.
Let's take a look on all possibilities of the programs included in each category.
"Expanded Digital Audio Workstations" – we will talk when we let it do all the activities related to the production of music, namely:
Compose
record (audio and MIDI)
Edit
Mix
Master
work with video files – not full video edition but this is important to have a preview when we compose music with image
GROUP I
This is the list of 11 expended DAW's:
Steinberg Cubase
Avid Pro Tools
Cockos Reaper
Apple Logic
Ableton Live
Cakewalk Sonar
Presonus Studio One
Steinberg Nuendo
Magix Samplitude
Acoustica Mixcraft
Sony Acid Music Studio
GROUP II
Second category – DAW's who gave us similar capabilities to the expanded DAW'a excluding video edition and preview:
Zynewave Podium
Ardour
Propellerhead Reason
FL Studio
Steinberg Sequel
Renoise
GROUP III
Third category contains meager DAW's and Audio Editors. They've got some lacks of functionality so they are not for everyone, namely:
Cool Edit Pro
Adobe Audition
Audacity
Sony Sound Forge
Steinberg Wavelab
Audio editors are designed for different purposes than making music from the beginning to the end. Even so they are really approved and widely used – not as often as the others, especially in home studios. They don't have a capability to compose music, use virtual instruments, work with MIDI, even so they can record and mix (only simple things). The best thing about them is hidden in montage, edition and mastering all albums.
I tried to divide Digital Audio Workstations as logically as it is possible – to know how to look at those programs. It will be good start for a deeper analysis of advantages and disadvantages of each DAW.